Eliot's Fashion Challenge
One Thursday afternoon year 9 Eliot were given a brief. It asked for a party or wedding dress made in one hour, using only tape, newspaper, 2 bin bags, cups, blue ribbon and string. It was another house activity where the houses would compete against each other for precious points that could win them the house cup in summer. Mr Tuck was assigned to our room, and encouraged our ideas throughout the process.
The first job to tackle was deciding who was going to model our dress on the catwalk, who we should assemble the dress on. For this we quickly chose Annabel Beaverstock. She was an excellent choice and patiently stood through an hour of dress making. Next was to design the dress; Zara Hodges took the lead here. A skilled artist, she quickly sketched out a long dress. This provided us a clear plan of how our dress was to be made and what we should aim for in the final product.
Rhiannon Timson quickly took one of the leading roles in assembling the dress on Annabel. She is taking textiles for GCSE and she demonstrated her creative skills in the subject. Within 15 minutes Rhiannon and other budding fashion designers had made a black bodice, with blue lacing down the back and blue straps. This was made only of a bin bag and ribbon. Meanwhile, a couple of girls got started on a handbag (newspaper and tape) and a group across the room folded and taped newspaper into a beautiful textured train for Annabel.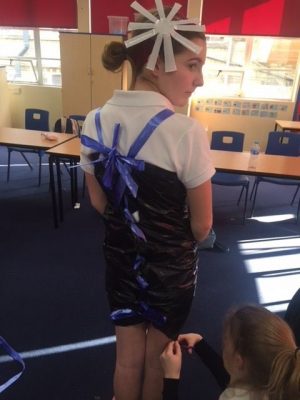 15 minutes before time was time was up, everyone did a massive push to make Annabel catwalk ready. The train was taped on, handbag hooked on her arm and flower (plastic cup) positioned in her hair. Music was chosen to be Partition by Beyoncé, and Sasha Evans, who had represented Eliot in the public speaking contest in the previous term, was picked as compére. We're ready to go!