Johnson's National Insurance pledge highlights apathetic approach to youth
On 7th September, Boris Johnson relayed plans to increase the funding of social care by increasing national insurance by 1.25% as of April 2022, which will in theory raise an extra £12 billion a year. However, it isn't the cause for the money raising that's the issue for me, its who will have to bear the brunt of the vast tax surge – the youth. The conservative treatment of the youth over the past few years has been appalling. They were the big losers during the Covid-19 pandemic, with their lives put on hold, encountering huge problems such as having to cobble along with online learning in school and fronting bills for tuition fees despite the dip in teaching standards. All issues made as severe as they were due to Johnson's ignorance in not shutting down the country earlier, despite seeing European allies around him collapse with Covid cases beforehand. So, after rough treatment of the youth during the pandemic, Johnson's attempt at appeasement is by punishing them further through taxation that directly targets them. What I wonder is why can't this rise in tax be allocated to the weather bracket of the country? How is a sudden taxation without a proper plan to overhaul the care system going to even work? Despite these pressing issues only 10 Conservative MPs voted against the bill. Comical. The introduction of such legislation also seems very counterproductive considering the country's GDP decreased by 10% during the pandemic. Surely the prosperity of the economy would be a main priority? Except this tax damages employment rates and businesses and is known to many as "a jobs tax". On top of this, Johnson has brazenly breached his 2019 manifesto as he promised not to increase any form of taxation, yet he still drops this bombshell. A mark of a man with no shame. Are we even surprised anymore? During the whole of his tenure he's lied, deceived and made constant U-turns, surely the British citizens deserve a much more trustworthy government? It leaves young people at a crossroads and gives them a massive dilemma for upcoming elections. The Conservative party has shown how little it regards the younger population, and Labour seem far from fit to run the country under Keir Starmer, So who do we vote for? It certainly isn't obvious.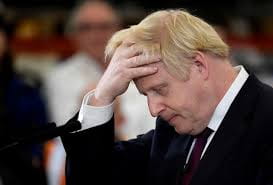 The Tories have completely polarised a generation and they seem to suffer no consequence in doing so, due to the security of votes from the old electorates. To put it into perspective 67% of people aged over 70 were Tory supporters in the 2019 election.
As mentioned, the main problem that angers me about this legislation is not the regressive nature of using national insurance to fund the social care problem, but who this taxation directly impacts. It would appear logical to aim this tax at the wealthier bracket of the population who are at or nearing retirement age, but if you dig deeper, you understand why Johnson hasn't vowed for this option. (Hint) it would deeply upset his Tory donors who fit under that exact category. The corrupt nature of politics is saddening as it never seems to be doing what's in the country's best interest, but instead keeping those who support you close by. All I can conclude this with is that I hope the Conservative party live to regret the constant neglect of the younger generation. The format of this legislation only confirmed what we knew already. They simply don't care about us.