Gender inequality'; a phrase almost unheard of in the past, but now discussed extensively on almost a daily basis, for some is a burning passion for change and for others an eye-rolling conversation starter. Nowadays, gender inequality may be seen by many as a diminishing issue globally and has generally made huge advances towards a more equal and fair society. The existing campaigns, protesters and people simply making a stand must be applauded for their work and the difference they have made for both men and women alike in recent years. Yet, this controversial topic leaves no country exempt from the issues it causes, and a mere 1000 miles from the UK, Spain is going through its greatest up rise in gender-based conflicts of all time.
On July 7th 2016, 5 men notoriously named 'The Wolf Gang' after their shared whatsapp group, filmed themselves committing a gang rape against an 18-year-old girl during the 'Los Sanfermines' festival in Pamplona, Spain. When tried in court, all 5 men were initially acquitted of the attacks as no 'intimidation' or 'violence' occurred, and the girl appeared to be static during the whole ordeal, which she described in court as being frozen with fear causing her to be numb from the ordeal. This caused a national outcry in Spain, with feminists nationally criticising the justice system in Spain and the verdict given. The high-profile case inspired thousands of oppressed women to take to the streets with signs and chants such as "yo te creo" meaning "I believe you" in support of the girl who suffered. A hashtag trended across social media, "cuentalo" meaning "tell your story" encouraging the numerous women who felt personally affected by the events in July 2016.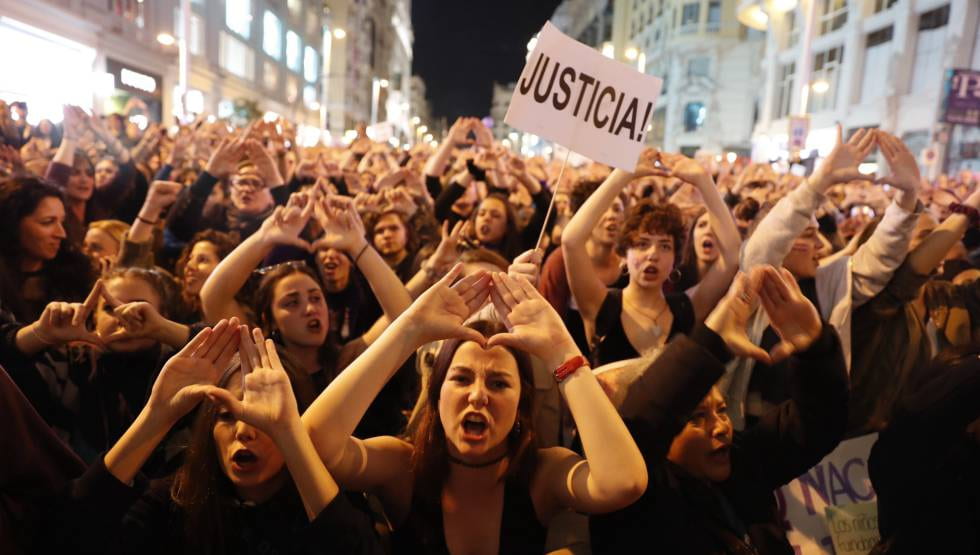 The protests and campaigns by the women in Spain pushed the government there to make changes to their legislation surrounding sexual assault. Spain is the only country in Europe to have a law which targets gender-based violence, specifically using courts that can only prosecute men in a bid to protect women from sexual and domestic violence. Currently in Spain, there is also a rising pretentious political party named 'Vox', an openly misogynistic party which blames feminists for turning men into guilty people, who are also anti-abortion and want to abolish the law that protests women from gender violence. However, alongside this, they enthuse of a 'united Spain' where men are not discriminated against and feminism is non-existent. Though surprising, a growing number of women in Spain support this party under the basis that they believe Vox wants to still protect women, as well as standing up for the rights of men too. Vox believe the current law in Spain discriminates against men.
Today, the Spanish government say they possess one of the most feminist dominated cabinets worldwide. However, as it stands today, Spanish feminist organisations are still working towards bringing legislation that states that sexual acts engaged without expressed consent are to be rendered acts of rape. Last year alone in Spain, 47 women were killed by their partners, and in 2017 over 100,000 women suffered sexual violence, but this is only the estimated 20% of cases brought to police attention. Spain have aimed through their current legislation to better protect women from violence of this category but this has led to growing negative disparity between men and women there.
The UK seems to have made significant progress towards equal treatment of men and women, but by contrast well developed countries such as Spain seem to be significantly lacking behind and the contrast between the two societies is immense. I think huge progress has been made but the impression of Franco's dictatorship still leaves Spanish society divided between patriarchal supremacy and feminist equality. The conflicting opinions between Spanish people have long and far to develop before an equal society is achieved, one where women no longer feel oppressed and men no longer feel targeted. I believe feminism is rising hugely in the country but a better balance and understanding needs to be achieved across the genders. Both sides of the gender equality battle have great substance to their arguments, but unless solved Spain will continually lack behind in its development of a peaceful and harmonious population.
Grace Keeling, Lower Sixth