Yr 7 English trip to Stratford-upon-Avon
Shakespeare's Birthplace
We arrived at Stratford upon Avon at around 11.00 on the 24th of June 2019. Our first stop off on our journey through Stratford upon Avon was the RSC (Royal Shakespeare Company). We first watched a power point about who Shakespeare was and what he did in his life. We learnt that he was a poet, playwright and actor. We also learnt some insults such as bull's pizzle, whoreson and whoremonger to name a few. Shakespeare died on the same day he was born on the 23 April. His dad was a glover and he had 7 siblings. He had two older sisters named Joan and Judith, and three younger brothers named Gilbert, Richard, and Edmund. He also had an older sister who was born in 1558 but who died from the plague when she was just an infant. His mum was called Mary Arden before she married John Shakespeare. William Shakespeare moved to London when he was The Globe Theatre was a theatre in London associated with William Shakespeare. It was built in 1599 by Shakespeare's playing company, the Lord Chamberlain's Men. There are some lost years in Shakespeare's life, one of which is the period from around 1585 until 1592.
We then went to visit Shakespeare's birthplace and we learnt that when the babies were born, they would sleep in a cot until they were about 3 then they would go in a small bed that rolled out from underneath the parents' bed and they would sleep on that. They could fit about 3 infants on that bed. When they turned 5, they were given their own room. We also learnt that when the bed started to get a bit droopy that meant the string holding the bed together had become droopy so they would tighten it with something that pulls in the string from under the bed and makes it tighter. William Shakespeare married Anne Hathaway in November 1582 and they remained married until Shakespeare's death. They were in a hurry to get married as Anne was already pregnant.
After that we went to have lunch by the river. We bought an ice cream and teased the geese by putting the ice cream to the water and then pulling them back when they tried to bite them.
Laith Nusair-Palmer
The RSC Workshop
The first thing we did when we arrived at Stratford-Upon-Avon was to climb the steps of the RSC (The first Royal Shakespeare Company). We climbed for what seemed like an eternity and was greeted at the top steps by a lovely lounge area. But we barely had time to drop our bags before we were whisked down another flight of stairs down a corridor and through a door which led to a drama room with four chairs, a room for acting and a brilliant view of the Stratford lake and a Shakespeare boat which was selling ice cream. If we looked in the distance, we could see the huge theatre owned by the RSC. We were then told to warm up by playing some fun drama games before continuing on to the next thing. After a little while we got to my personal favourite part. We were told to perform the builders' play in A Midsummer Night's Dream. It was hilarious and consisted of a moon jumping about everywhere and a lot of shouting of TRUSTY SWORD and people running into each other.
Arran McIlfatrick
In the workshop we were taught some different ways of articulating arguments by using some dialogue from a Midsummer Night's Dream script. The instructor also said that if you do a physical action such as a punch or a kick, on the end of each line in an argument it would help you emphasize that word.
James Plenderleith
The workshop was wonderful. We learnt a lot about the play and understanding Shakespearean language, words like beauteous and lull'd. We learned that he also included lots of his poetry in his plays. In long speeches, before a character's death, and maybe even when they are plotting something. We also did quick shortened version of the mechanicals play – also in A Midsummer Night's Dream. The mechanicals play is about a man called Pyramus and a woman called Thisbe, who are lovers, but they are separated by a wall with a little hole in it from which they talk through. They arrange to meet at midnight the next night. That night a lion turns up and scares Thisbe away. Thisbe, as she was so scared not to think, accidentally dropped her scarf as she was running away. The lion found this item of clothing and tore it apart. Pyramus found the ripped scarf and in much sadness stabbed himself with his trusty sword. Thisbe, having not been killed as Pyramus thought saw the dead body took the knife and killed herself too.
James Silcock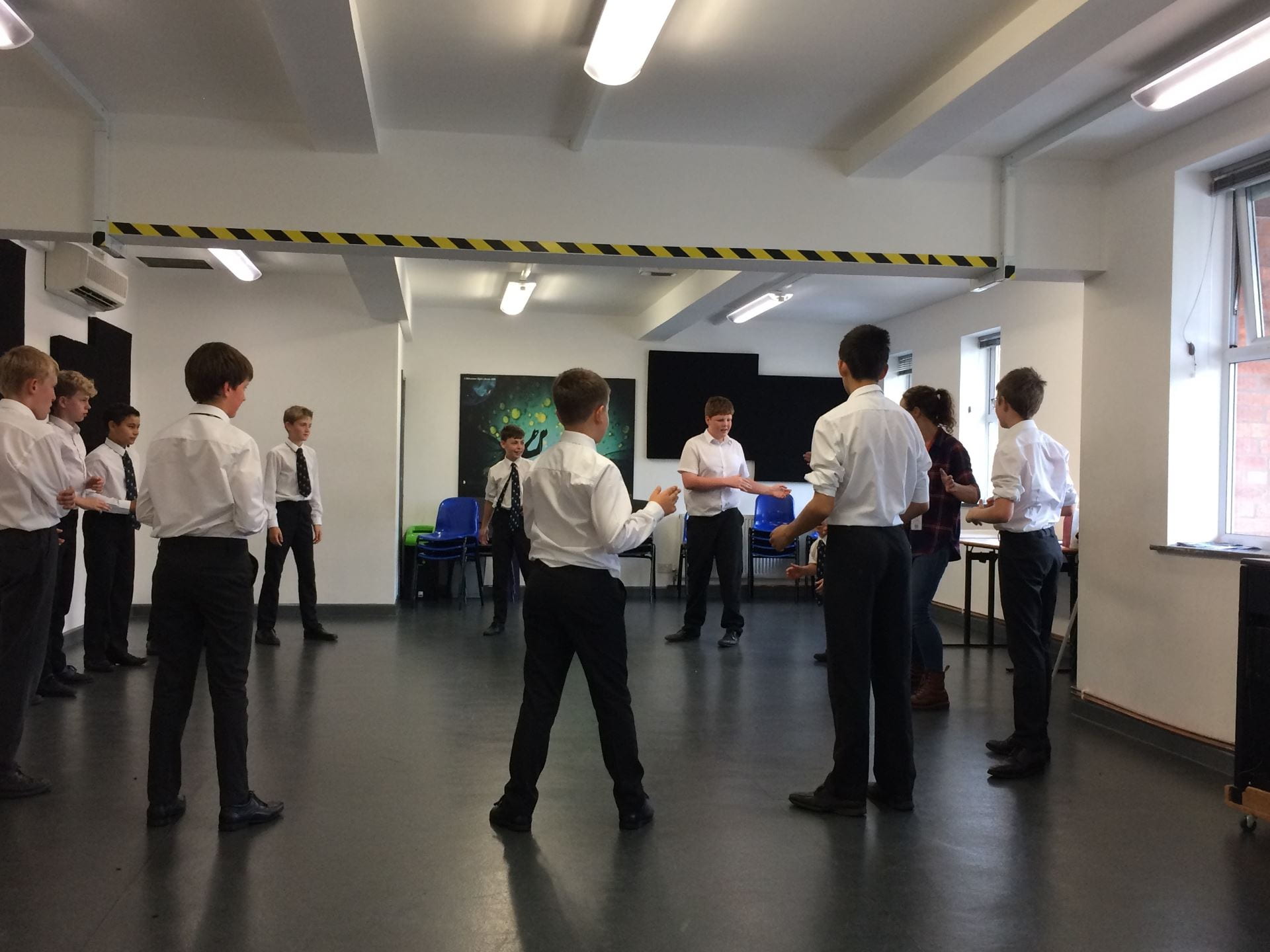 Holy Trinity Church
After we had finished our drama workshop, we met up with the other groups where we walked past the river and along a gravel path into this enclosed park where we sat down to eat packed lunches. After we had finished our lunches, we continued down the path towards the church were Shakespeare was buried. Unfortunately, there was a choir practice on so we couldn't go inside, so we walked around its beautiful gardens. The church was magnificent and reached up high into the sky and it had amazing glass-paned windows.
Alex Farmer