Y12 Geography Field Trip to Wales Write-up
By Grace Newton and Darcy Johnson
On Friday, the 8th February 2019 the year 12 A Level geography students went to the Rhyd-y-Creuau Field centre in Snowdonia. It was a 5-day trip to collect data to prepare for our compulsory personal investigation known as the NEA (Non-Examined Assessment).
On the first day, we travelled from school via mini bus to a popular village called Betws-y-Coed in the Conwy valley. There, we stopped for approximately an hour and surveyed the surrounding population on our own surveys we had made in class on our chosen NEA subject. In the village, we walked around looking at different tourist attractions such as a variety of shops as well as the Afon Llugwy river where we saw some kayaking (and our peer Lawrence Hayes fall in and ruin his trainers). After that we were back on the road until we arrived at the field centre where we settled into our rooms and had a belated dinner. We had one of our evening lessons which always took place from 7-8 pm where we were introduced to the course and what we were going to be doing over the next few days.
At the field centre, there were a number of very appreciated facilities such as a common room (with some very comfortable sofas, used to their greatest potential during the rugby match), a cellar furnished with a pool table, table football and a ping pong table and most importantly a boiling water dispenser for the very frequent tea breaks.
The Second day we went to Llandudno which is a coastal town in North Wales. It was about a 40-minute journey from the field centre to the town. Llandudno was a Victorian sea-side town in which people would come for a holiday and it hasn't changed much over the years. This day was focused on Human Geography and linked to the 'Changing Spaces, Making Places' part of our specification, the students that were focusing on human geography for their NEA could take the methods we used on this day and replicate it for their own independent investigation.
Firstly, once we had got off the bus we explored the area slightly using Dérive Cards that randomised where we went, they had instructions on them such as 'Turn left' or 'Follow a car', these meant that where we went didn't have personal bias and in our individual groups we could properly explore the area. Then next in about groups of five we carried out a 'Home town, Clone town Survey' to decide whether Llandudno was a clone town or not. We carried this out by walking down the high-street and noting down chain and independent shops. We then calculated whether Llandudno was a clone town and we came to the conclusion that it was. Then after this we did some mood mapping in different areas of Llandudno w
hich was again carried out in groups and on the iPads from the field centre. We also carried out an Environmental Quality Survey and a Crime Perception Survey to again further our knowledge of different data collection techniques. The day that we went to Llandudno was useful for our independent investigations because we could use what we did as a pilot study and for people doing human geography there were many different data collection techniques to be utilised.
The 3rd day was the carbon and water cycle investigation day within the Conwy catchment.
Firstly, we looked at water infiltration using geographical apparatus (a metal infiltrometer we hammered in the ground) to measure the infiltration rate of the soil. We did this on both a slope and on flat ground to compare our results. After this we looked at interception in the wooded lowland areas around the centre, we compared interception rates between coniferous and deciduous trees using apparatus already laid out for us. After this we moved onto the carbon experiments and travelled to the dramatic Welsh peatbog uplands of Mignient Moor to use soil experiments, biomass estimations and use of the app ArcGIS to estimate the carbon content of both the peat bog and then some deciduous trees we looked at after back in the woodlands. The Moor itself was breath-taking as its expanse went on over the horizon. This day was useful for those of use studying carbon or water topics for our NEA.
The final day, we travelled about 30 minutes to the Nant Ffrancon Valley in Snowdonia to complete our glaciation day. This day was the one that focused on the Glaciation part of our specification and helped people who wished to do it for their NEA's. We trekked up to Cwm Idwal taking regular breaks for necessary photographs of the amazing landscape. On our way up to Cwm Idwal we sat on the edge of a rock and looked out to the Nant Ffrancon valley completing a skitch and identifying the different landforms such as truncated spurs and a misfit stream, which went down the centre of it. Then on we went and up to Cwm Idwal we walked, the large tarn was beautiful and we sat on the edge of it and completed a field sketch to identify its characteristics.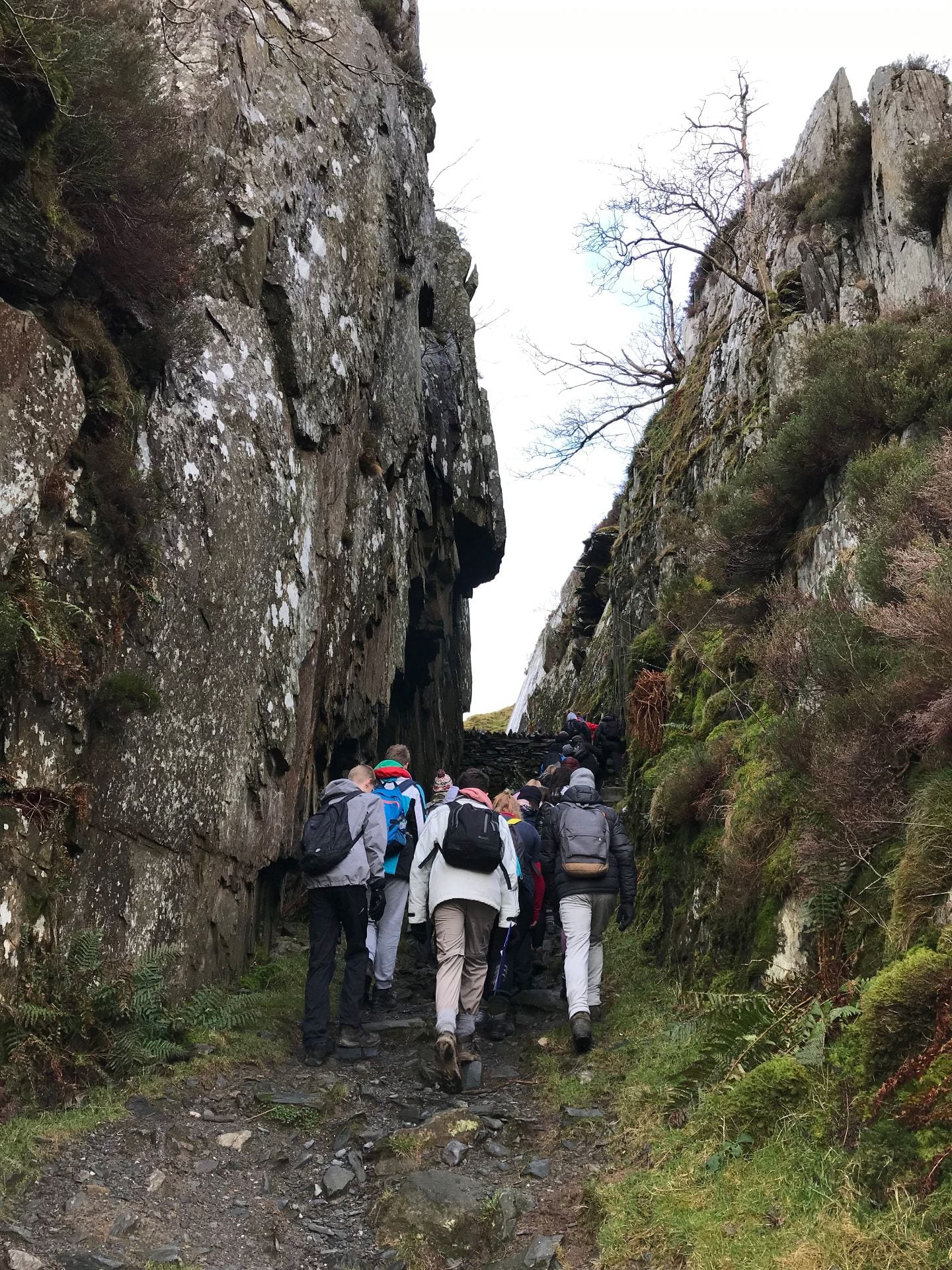 This was also used as a snack break. After the photos and the food were done we walked around the tarn and then measured the striations to figure out the way that the ice flowed. Unfortunately, we had to leave this area too soon and then we began our descent back to the ground. After we had yet another snack break we got back onto the mini buses and went to a Roche Moutonnee in the valley itself, this landform was large and we completed more activities about it and then thanks to Mr Smith had another group photograph. The final minibus trip of the day was to the Pentir Esker and Kame in which more activities, more photos and some running under each other's arm took place. This day helped to further our knowledge of Glaciation because we had learnt about these places in the classroom but in real life they seemed so much more amazing.
Overall, the trip exceeded our original expectations and we thoroughly enjoyed it and found a new love for the boiling water tap too. Leaving the Welsh Landscape was sad but we had come for what we needed and now we are more equipped for our independent investigations then we were before.