Stamford School Epee' Fencing Club
Fencing is a group of three related combat sports. The three disciplines in modern fencing are the foil, the epee' and the sabre'. At Stamford we use the epee' and winning points are made through the contact with the opponent. Epee' is the only one in which the entire body is the valid target area.
Fencing is an Olympic sport and we have the most fantastic coach Mr Chris Howser who also coaches the British Youth Team.  If you look a the picture at the bottom of the paragraph you'll see him representing the UK when he used to compete!  To be able to fence in external British Fencing competitions, competitors have to become a 'compete' member of British Fencing.  A small team, including myself will be taking part in the '4 County Youth Championship' in Oundle on the 16th February.
The team trains on Friday nights from 4.30pm – 5.45pm and the training sessions include lots of practice of our 'on guard' position, attacking and defending. We then change into our protective equipment which includes a face mask and under and outer layer jackets. All the equipment is provided by the club.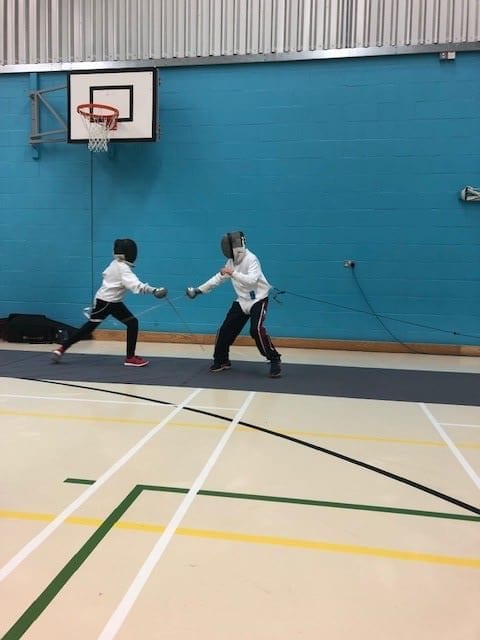 To be able to start fencing the body wire is connected to the lame' and runs up the body wire to the tip of the weapon. A match is between two fencers in practice or in competitions and is great fun.  Points are scored by touching or 'hitting' opponents with the tip of your sword, which is wired to a buzzer that sounds to indicate contact and in epee' the entire body is legal.
Each touch is worth one point and a bout is a maximum of nine minutes long, divided intro three periods of three minutes. The fencer that reaches 15 points first is the winner. Sometimes, in team competitions the points system can be changed.
The school club has several members from year 7 upwards and we are looking to develop the club further.
As promised here is a picture of our  fantastic coach Mr Chris Howser when he used to compete, one day we hope it will be us!
Ethan Mitchell-Clarke year 7DDC