Academic Scholars Trip to Cambridge
After arriving in Cambridge, we ate our packed lunches. We then walked past the Mathematical Bridge-a structure translated from written words on a piece of paper to a bridge. St Catherine's was the next piece of history that we saw. We learnt that the acoustics within are outstanding because of the height and depth of the building (many choirs practised there.)
The Fitzwilliam Museum was filled with amazing facts and historic features. The first room we ventured inside was filled with armoury. There were crossbows, daggers, swords-one was even taller than me – guns and many more too! On the left-hand side were horse and human armour. That room gave me the feel of the medieval times or war.
In a room with lots of china pottery, we noticed that some of the teapots looked the ones with the faces from Beauty and The Beast. Within two rooms were models of animals-an owl with horns and a hawk. They looked so real as their features, like feathers and claws, were very detailed.
Upstairs was where the artwork was kept. Around some of the paintings were frames that looked just as beautiful as the drawing! There was religious artwork as well that was painted with emotion.
We saw tombs and some even had real organs still inside! There were many sculptures of faces and bodies. I saw some tapestries as well that were very interesting. It looked like they told some type of story or were a scene from a famous battle.
Overall, I learnt a lot from the day and would love to go again!
Isabel Philby, Year 7.  Scholar
Visiting Cambridge – a Second Account
Recently, all of the year 7 academic scholars went on an exciting field trip to Cambridge! It was a great idea because it gave us a chance to glimpse Cambridge as an interesting, versatile place that we might want to look at as a University when we are older. The day started off with a picnic just outside St. Catharine's College.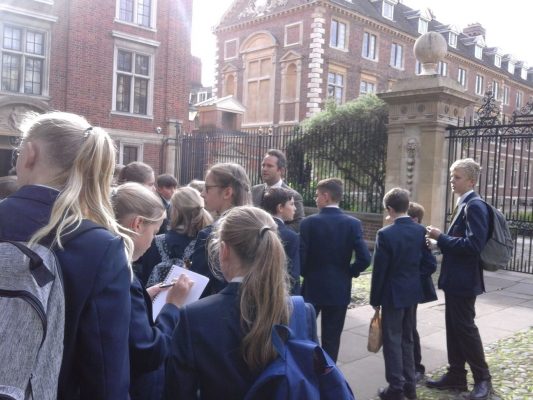 The first stop was mathematical bridge which Mr. Gloucester (our tour guide because he himself studied at Cambridge) told us to think of it as an equation, as something of pure mathematics because it was designed in a way which made it not require any supports. It basically supports itself. What I found extremely interesting about St. Catharine's is that the symbol of the college is the wheel on which St. Catharine was martyred. After that we stopped by Kings, where Mr. Gloucester informed us that it has a strong link to Eton, and that Henry the VI built the College with the idea that after Eton the students could continue their education at Kings. Kings Chapel is also the face of Cambridge University.
The final stop was the Fitzwilliam Museum, where we looked at three major exhibitions: the armory, Egyptians with a bit of Greek, and some paintings. The armory was very interesting with a huge range of different weapons, although the ginormous two-handed sword, that could easily slice someone's clean head off, left me in awe. The Egyptian section was beautiful. I loved seeing the paintings on the sarcophagi; it made me think about what they thought might happen to them in the afterlife. The paintings, which are mainly from the late middle ages and Tudor period, were also very interesting.
So, all in all I think we all had a great day, looking at the Colleges and Fitzwilliam Museum (oh, and not forgetting a huge sweet shop which I'm sure didn't go unnoticed!)It definitely made me want to go and study there when I'm older.
Felix Morgan, Year 7. Scholar